AlgoZone Ecommerce Shopping Cart Templates And Skins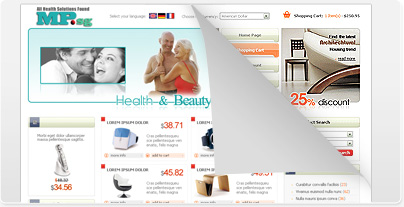 High quality professional design, rady made Ecommerce Templates and skins. They design OScommerce templates and themes, OpenCart templates, ZenCart templates, CS-cart templates, Magento templates, and the new AbanteCart templates. Wordpress can be used as a fully functional shopping cart. But for sheer speed, OS Commerce is hard to beat. Just not quite as user friendly as Wordpress, and it can be even more challenging if you are new to it. Or you can try the new shopping cart, AbanteCart which is the most user friendly shopping cart ecoomerce solution I have tried. These are some of the more popular shopping carts available. OS Commerce shopping cart loads a lot faster than a WordPress shopping cart theme, but it is not as user friendly as WordPress. If you know your way around website design, OS Commerce websites can look stunning. Another favorite is the new AbanteCart ecommerce solution. It looks great, loads fast and has the most user-friendly control panel I have tried. Tried ZenCart a few years back but that has a rather steep learning curve. These days, AbanteCart ecommerce is the fastest way of setting up your online store.
About AlgoZone
AlgoZone has the largest selection of ecommerce templates at affordable prices. More importantly, support is available when you need it. AlgoZone Inc. is leading provider of ecommerce solutions, including ecommerce templates, custom design, usability, development and support. AlgoZone offers large selection of pre-made ecommerce designs and modules for many
shopping cart solutions
. The company is based in Hackensack, NJ, USA and provide global support from multiple offices in the world.